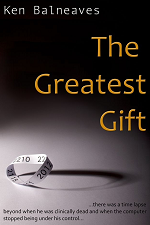 The Greatest Gift
By Ken Balneaves
Genre: Science Fiction

4.2 out of 5 stars
(Amazon UK—checked on July 28, 2012)
Synopsis: Richard Harper, a scholar and top athlete, had always believed that his grandfather, Professor Stuart Harper, had died when he was a child. When Richard discovers, however, that the scientist has been incarcerated in a care home for years, he seeks out the truth - and finds a lot more than he bargained for!

Stuart Harper, was a brilliant scientist before he was struck down by motor neurone disease. Locked in the cruel solitary confinement of his own mind he was left with no form of communication with the outside world. But his grand-son changes all that. He finds the key to let his grandfather speak once again. And speak he does, his brilliant mind as sharp as ever, returning to the world with great scientific acclaim.

Following Stuart's death in 2012, however, Richard discovers a computer file generated by his grandfather. And what is on this file will change the universe forever. A file generated by Professor Harper after his own death!

The Greatest Gift, a science fiction novel, opens in Cambridge in 2001. And ends somewhere beyond our wildest dreams.

To read an excerpt, click HERE.
---
Reviews
"I downloaded this book to my kindle for reading over the Easter break and couldn't put it down! The subtle twists to the story line captured the imagination throughout. As a newly published author, Ken Balneaves will be one to watch for the future."

"I found this a thought proking book with compulsive page turning to the very end. I look forward to reading the sequel."

"This book is lovely with something else unfolding every few pages full of good people trying there best to get it right for man kind with some great twists in the last 10 pages. It is very easy to try and be to clever in a book of nature Ken has got the balance just right, Well done ken! Cant wait for the next one."
---
Author Bio
Syndicated from his website.
Born in 1955 and raised in Edinburgh, Ken Balneaves attended both the primary and secondary schools of Trinity Academy. In 1971, with his mother, father and sister, he moved to Northwood in Middlesex and, save for a brief spell at Herriot Watt University, his life has been spent in that area where he has a career in Architecture and Surveying.

Creativity has always been high on Ken's agenda and over the years he has designed many buildings, chiefly in the residential market but also commercial buildings too.

From a young age, as a hobby, woodwork has featured in his life producing anything from fine furniture to general house construction.

In 2006, Ken started to learn how to fly a helicopter and believes that may be where the concept for this book stemmed as he considered his mortality following incidents before and after achieving his licence.

Married to Sheila and with three grown-up children, Lauren, James and Kirk, Ken writes mainly as a hobby.
Places to find him online:
Facebook:
HERE
Twitter:
@kenbalneaves
Blog:
HERE