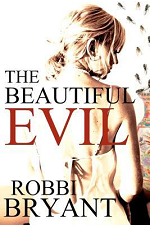 The Beautiful Evil
By Robbi Sommers Bryant
Genre: General Fiction

4.1 out of 5 stars
(checked on July 29, 2012)
Synopsis: Constance Sartone Jacobson never recovered the sudden death of her father when she was only five. Devastated by her husband's death and the scandal that ensues, Constance's mother, Madeline, does little to comfort her scared and lonely daughter. With nowhere to turn, Constance protects herself by closing off her emotions.

Through vivid dreams and daytime visions Constance's father calls to her from a horse-drawn stagecoach. These visions help Constance cope with her humdrum life and failing marriage. But things are about to change. On a business trip with her husband, she purchases an antique Greek vase. Upon opening it, a stream of purple light hisses from the vase and a tribe of wasp-like creatures pour out. One of the creatures shape-shifts into a ravishing fairy and offers Constance a way out. Desperate to feel anything, Constance listens to the fairy's advice.

But as her confidence grows, she begins to make all the wrong decisions, catapulting her into a web of lies and deceit. As her life spins further and further out of control, Constance finds herself starting into the abyss forced to make one final heart-wrenching decision. A roller coaster ride into chaos of a personal hell, The Beautiful Evil is a captivating psychological thriller that will keep you questioning reality until the ultimate final act.

To read an excerpt, click HERE.
---
Reviews
With brevity I want to make some key points for readers contemplating buying this book:

1. Easy to read, but not light on anecdote, symbolism, and intrigue--sucks you in like the vortex of a tornado.
2. Vivid word pictures! Robbi paints a mosaic of images from the prose that captivate the imagination.
3. It's a "stealth" thriller. No heavy blood and gore, but more of what happens in our minds. Those silent thoughts we think nobody will ever know about.
4. Pacing is superb, she keeps the story moving with just enough "back story" to make you go, "Uh Huh...get it". I read it in three sittings.
5. Character development is well done, bravo there! I am a man and could see the world through the central character, Constance (a woman).
6. Unlikely twists and turns, it's not predictable!
---
Video Trailer
---
Author Bio
Syndicated from her website.
In 1986, Robbi Sommers Bryant's therapist gave her a writing assignment to write a series of stories. This was the jumpstart of a prolific ten years of published writing.

Robbi's published works include 4 novels, 5 short story collections and 1 book of poetry. Her work has been published in magazines including Readers Digest, Redbook, Cupido and Penthouse.

Her writing is also included in several anthologies. A magazine article Robbi wrote was published as an excellent example in an academic textbook, How to Write an Essay. These were all published under the name, Robbi Sommers.

After the sudden death of her 21-year-old son in the late 1990's, Robbi's passion and creative flame extinguished. She stopped writing until last year.Robbi has recently retired as a dental hygienist. She has also worked as a licensed esthetician and a certified massage therapist. Once a disco dance teacher and tarot card reader/teacher, Robbi has dabbled in many of life's experiences. She is married and is the mother of three sons. Justin 1976-1997, Brian and Nick (twins, age 28.)
Places to find her online:
Facebook:
HERE
Twitter:
@sweettalk29
Website:
HERE
Blog:
HERE