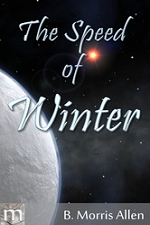 The Speed of Winter
(Four Seasons quintet)
By B. Morris Allen
Genre: Science Fiction


4.3 out of 5 stars
(checked on July 23, 2012)
Synopsis: Earth's Bureau of Planning sent the arkship out to found a new colony and save humanity. But they made a mistake...

When two of the crew broke the rules to have a child, they didn't know their target planet was a frozen wasteland. Now their daughter Elyse must watch the adults around her cope with devastating failure, and try to make something out of her own life at the same time.

The Speed of Winter is the first in the Four Seasons quintet, which explores the voyages of four arkships and the fate of those left on Earth. Winter will be followed by A Heading for Fall.

Not suitable for children.

To read an excerpt, click HERE.
---
Reviews
"The Speed of Winter is short, sharp and dark. Mr. Allen writes with an engaging voice with clear, well crafted scenes and fully drawn characters. The story moves with purpose passing through a difficult crucible for the protagonist that leads, if not to a resolution, at least a completion of her character and story."

"Flash backs and short storylines in the present time gives this novella a feeling of loneliness."

"THE SPEED OF WINTER is a deftly rendered, haunting tale. It makes me think of winters where the snow never has a chance to melt, and every dusting increases the distance between the surface and the frozen ground beneath."
---
Author Bio
Syndicated from his website.
B. Morris Allen grew up in a house full of books that traveled the world, and was initially a fan of Gogol and Dickens. Then, one cool night, he saw the light of Barsoom...

He's been a biochemist, an activist, and a lawyer. He pauses from time to time on the Oregon coast to recharge, but now he's back on the move, and the books are multiplying like mad. When he can, he works on his own contributions to speculative fiction.
Places to find him online:
The Speed of Winter on Amazon
The Speed of Winter on Createspace
Amazon Author Page
Goodreads
Facebook
Twitter: @BMorrisAllen
Metaphorosis Books